Male, 53 years old
Louisville, Kentucky, Southern US
Offline - Last On: 2237days 17 hours ago
26
Buddies
21
Subscribers
6,630
Profile Views
7,411 Posts | Member Since: 5/31/2005
(No profile music for skinlessguy)
Interests:
Music / Movies / Video Games / TV / Flirting
Homepage:
Click Here
Birthday:
10/3/1968 (53 Years Old)
IM Type:
(Decline to State) IM Name:
Occupation:
Internet Security provider
Marital Status:
Dating
Sexual Preference:
Straight
Religion:
Other
Politics:
(Decline to State)
Fav. Movie:
A Clockwork Orange
Fav. TV Show:
Family Guy
Fav. Book:
Choke by Chuck Palahniuk
Fav. Song:
Kill Again by Slayer
Fav. Food:
Pizza or tacos
Fav. Car:
AMC Gremlin
Theme 'stripperlove' created by skinlessguy
Active Journal Entries | Archived Journal Entries
Oh, the pain...the pain! - Mood:Hopeful
Wednesday November 11 20091:46:37 PM |
I have a pimple inside my right nostril. I cannot stop poking it. It feels like someone is giving me a lobotomy with an icepick but yet it still feels so good.
There are 78 comments on this journal entry.
View/Add Comments
Real Monster - Mood:Good
Friday September 07 20071:51:24 PM |
When I was about 7 or 8, I wanted to be a wolf man. On the night of the full moon, I'd pretend to go to sleep so mom wouldn't notice my transformation. I'd take off all my clothes so I wouldn't rip them when I became lupine and I'd climb out my bedroom window into the back yard. I usually ended up just sleeping in the dog house and getting woke up by my dog licking my bum opening instead of slaughtering cattle.
There was a very brief period where I wanted to be a vampire. I mean, they look so cool and creepy in the movies, but have you ever actually attempted to suck the blood out of a victim? I was 13 and my nephew was 7, and I crept up behind him, pulled his head back and jammed my mouth down onto his throat.
Instead of biting him I just started sucking for some reason, and it seemed like I was more trying to give him a hickie rather than to drain his life force. Out of nowhere, I got an erection that bruised the back of my hand when I tried to slap it down,
There are 35 comments on this journal entry.
View/Add Comments
Is this the thanks i get? - Mood:Spent
Wednesday April 25 20073:42:40 PM |
I wake up about 5:30 am and open the door for the dogs to go do their thing while i go do mine. i'm still sleepy and in my boxer briefs, so i stand to the inside of the door to let the girls back in. Sugar, my 17 year old Pomeranian, refuses to come in. she's deaf, half blind, and is usually in her own little world as it is, but i didn't want to leave her out there.
I step out on the porch and the first thing i see is my elderly neighbor outside watering her plants. this is the lady who only wears a t-shirt and enjoys giving me views of her polyester granny panties. beige or off white seem to be the only color panties she owns...not that i look hard. i mean, i glance, but i don't stare. she sees me in my undies and gets this huge smile across her varicose colored lips and waves me over. i politely wave back and grab Sugar, who was scratching her ear on the ground, and we go back in.
There are 13 comments on this journal entry.
View/Add Comments
Misjudgment - Mood:Ashamed
Monday February 19 20071:29:48 PM |
Today I have been on a water drinking kick for some reason and have downed about a gallon and a half of the stuff so far. This has made me have to pee really bad obviously, but my last trip to the restroom I made a serious misjudgment. I leaned too close to the urinal and I was sprayed with a piss mist from my knees to my chest. I'm at work and can't go change clothes, so I sprayed about a half a bottle of Glade Fresh Linen scent all over me, but now i smell like freshly washed piss.
Any suggestions?
There are 14 comments on this journal entry.
View/Add Comments
My First Crush - Mood:Good
Friday January 19 20073:31:00 PM |
I was 5 years old and had a huge crush on the 12 year old girl next door. at the time, i didn't know what i was feeling, but looking back on it now i realize why i always let her run over me the way she did. for example, Halloween she was having a haunted house in her basement and i let her wrap me in Ace bandages so i could be a mummy and scare people as they came down the stairs. i didn't even acknowledge the fact that she had wrapped my arms to my side and my legs together so i couldn't move. i missed trick or treating that year, but she did share some of her candy with me the next day.
That Christmas she dressed me in swaddling and put me in the manger scene they had on their lawn. she said that if i slept out there all night long that Santa would bring me twice the presents he normally would because i was showing how good a boy i was by portraying the sweet sleeping baby Jesus. about 9am Christmas morning i hobble over to my house to see that i have the same amount of presents
There are 15 comments on this journal entry.
View/Add Comments
Self Nickname - Mood:Good
Thursday October 19 20062:12:59 PM |
I met a guy today who's name was Russell. He introduced himself as "Russell the Love Muscle" and I did not want to shake his hand. I gave him the head bob that universally means "Sup?" and that didn't seem to stop him from wanting to talk more to me.
He went on to explain how he had given himself that nickname and how much the ladies love it. I asked him why hadn't a lady gave him that nickname and he laughed. He kept laughing so hard I thought he was going to double over and give me my very first view of a legitimate "ROFLMAO".
He then looked at me with his best Antonio Banderas sexy look and said "You are very naive, aren't you? To make a lasting first impression on a woman you must have a catchy nickname or phrase to make them want to know more." My first thought was "Is this guy fricking serious?".
Now, my nickname is Frog and has been since 7th grade, but I didn't give myself that nickname. I was given it by a girl in gy
There are 56 comments on this journal entry.
View/Add Comments
9/11/2003 - Mood:Sad
Monday September 11 20061:39:45 PM |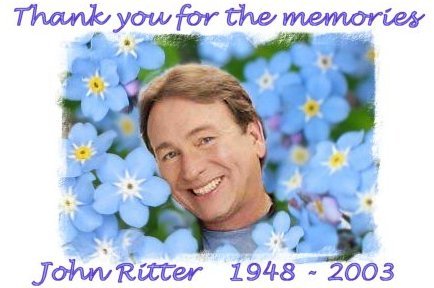 I
you John...you will never be forgotten.
There are 13 comments on this journal entry.
View/Add Comments
The Crazy Old Lottery Lady - Mood:Good
Wednesday June 21 20061:54:03 PM |
I was at Thornton's waiting in line to pay for my Subworks Supreme pizza and the person in front of me was this little old lady. She looked to be in her mid 70's, possibly a Pentecostal judging by the blue jean skirt and pony tail that went down to her waistline. I noticed she was carrying a spiral notebook that had different colored ribbons hanging out of the top of it that seemed to seperate each and every page.
When she got to the counter she proceeded to open that notebook to various pages and asked the clerk to give her a Powerball ticket with the numbers she would read to him. Every number was from a different page and she would expalin to him why she had chosen that particular number everytime. Be it a grandchild's birthday month or the day she received a coffee enema, whatever, i was getting aggravated!
Finally, after coming up with the 5 numbers she need for the ticket, the clerk asked her what number she wanted for the Powerball number. She licked her finger, walked out
There are 9 comments on this journal entry.
View/Add Comments
I Wanna Be Like Mike - Mood:Ecstatic
Monday May 22 20061:18:49 PM |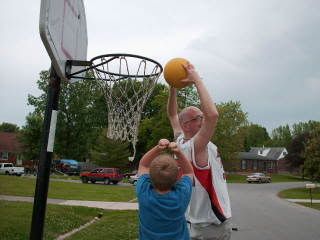 There are 28 comments on this journal entry.
View/Add Comments